< Back
Integration: Amazon CloudWatch Alarm
You need to set up an Amazon SNS topic for this integration!
Amazon CloudWatch provides metrics that you can observe with alarms. Once a metric reaches a threshold, the alarm can trigger an action.
I will show you how you can monitor your AWS bill. If your bill goes above a certain threshold, an event is sent to marbot that triggers an alert. You can not only monitor your AWS bill in CloudWatch. CloudWatch provides much more!
Monitoring your AWS bill with a CloudWatch Alarm
Ensure that you are in the N. Virgina region
Click on the Alarm link on the left
Click on the Create Alarm button
Click on the Total Estimated Charge metric under Billing Metrics
Select the only line
You should now see the following screen: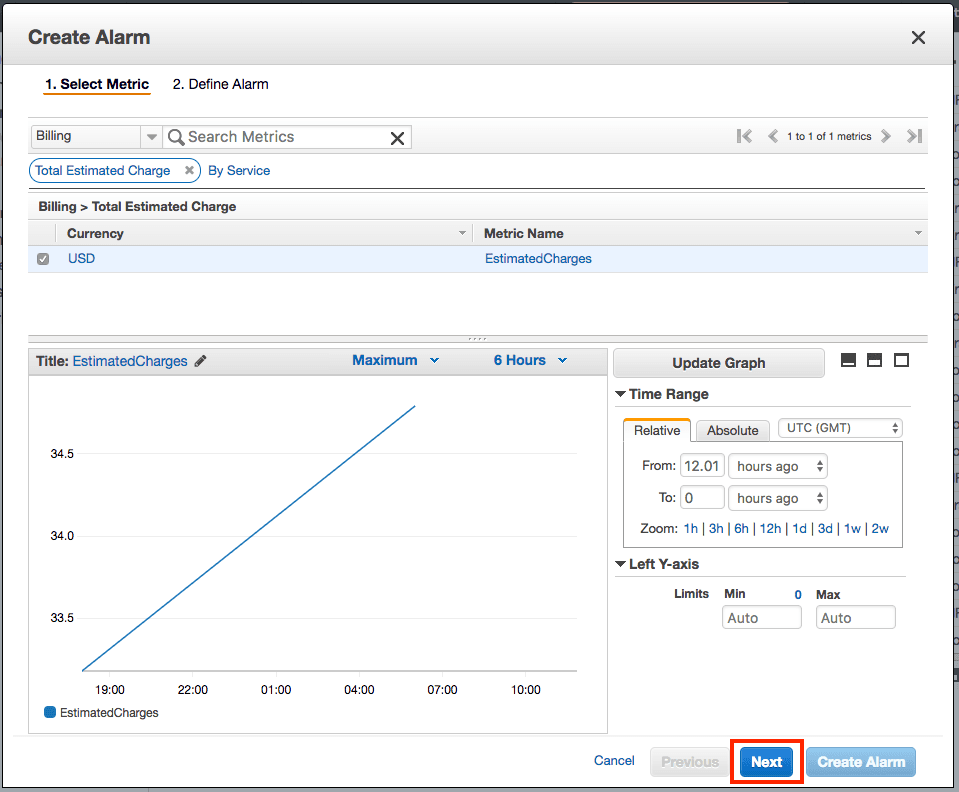 Click on the Next button on the bottom
Set a Name and a Description for the alarm
Set the threshold to $0 to ensure that the alarm is triggered (for test purposes only, you can change this later)
In the actions section at the bottom, set Send notification to the SNS topic you created, e.g. marbot.
Save by clicking the Create alarm button.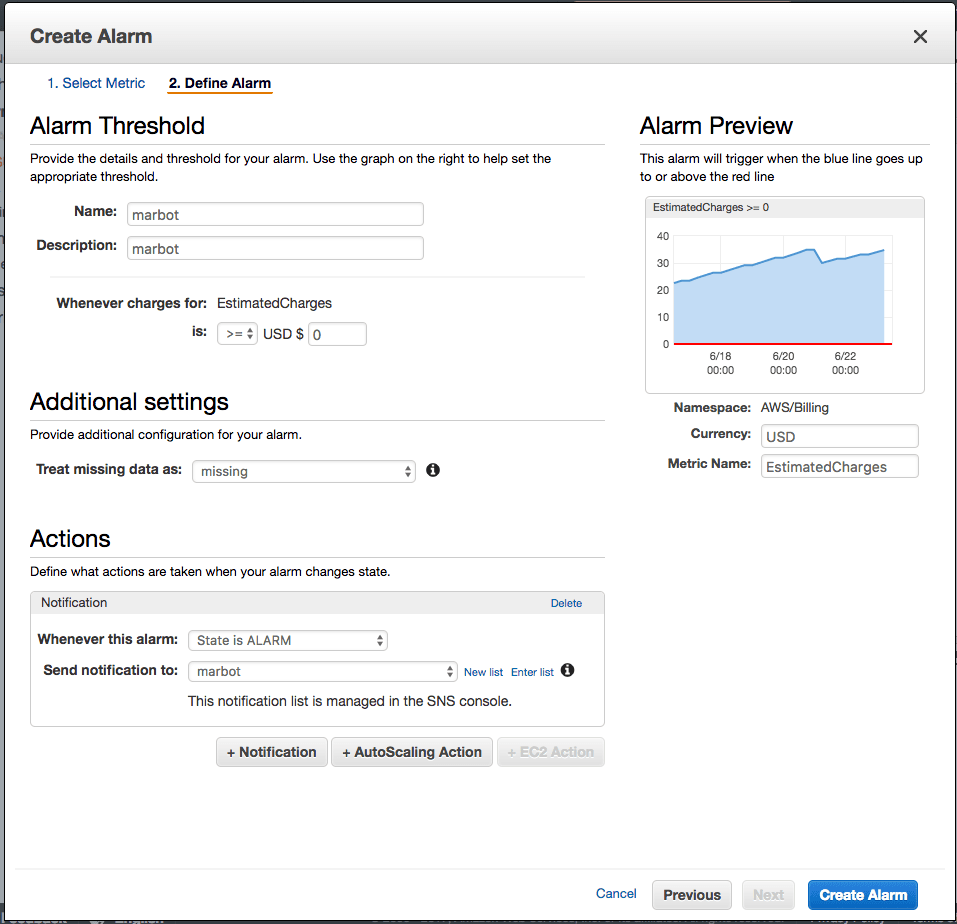 Sample Alert
Within a minute you should receive an alert in Slack: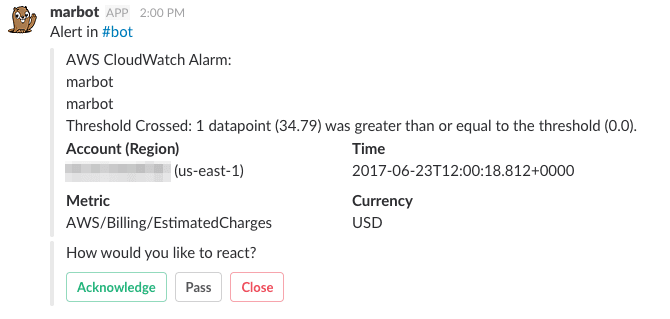 Auto-close
A CloudWatch Alarm can be in one of three states:
OK
ALARM
INSUFFICIENT_DATA
If a CloudWatch Alarm is in the state ALARM or INSUFFICIENT_DATA I will create a new alert for you. If a CloudWatch Alarm is in the state OK I will search for a related alert and close it for you. An auto-closed alert will look like this: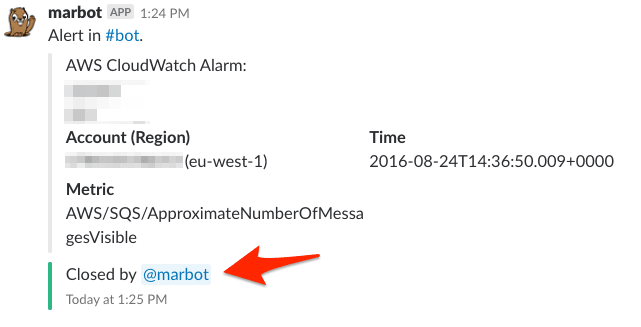 Namespaces with Quick Links
marbot enriches the following AWS-supported namespaces with Quick Links for fast access to resources in the AWS UI.
Namespace
AWS/AmazonMQ
AWS/ApiGateway
AWS/AppSync
AWS/AutoScaling
AWS/Billing
AWS/Chatbot
AWS/CloudFront
AWS/CodeBuild
AWS/DX
AWS/DynamoDB
AWS/EBS
AWS/EC2
AWS/ECS
AWS/EFS
AWS/ElastiCache
AWS/ElasticBeanstalk
AWS/ElasticMapReduce
AWS/ELB
AWS/ES
AWS/Events
AWS/Firehose
AWS/FSx
AWS/IoT
AWS/IoTFleetMetrics
AWS/IVS
AWS/Kafka
AWS/Kinesis
AWS/KMS
AWS/Lambda
AWS/Logs
AWS/NATGateway
AWS/OpsWorks
AWS/PrivateLinkEndpoints
AWS/RDS
AWS/Redshift
AWS/S3
AWS/SES
AWS/SNS
AWS/SQS
AWS/States
AWS/TransitGateway
AWS/TrustedAdvisor
AWS/Usage
AWS/VPN
AWS/WAFV2
AWS/WorkSpaces
AWS/X-Ray
CloudWatchSynthetics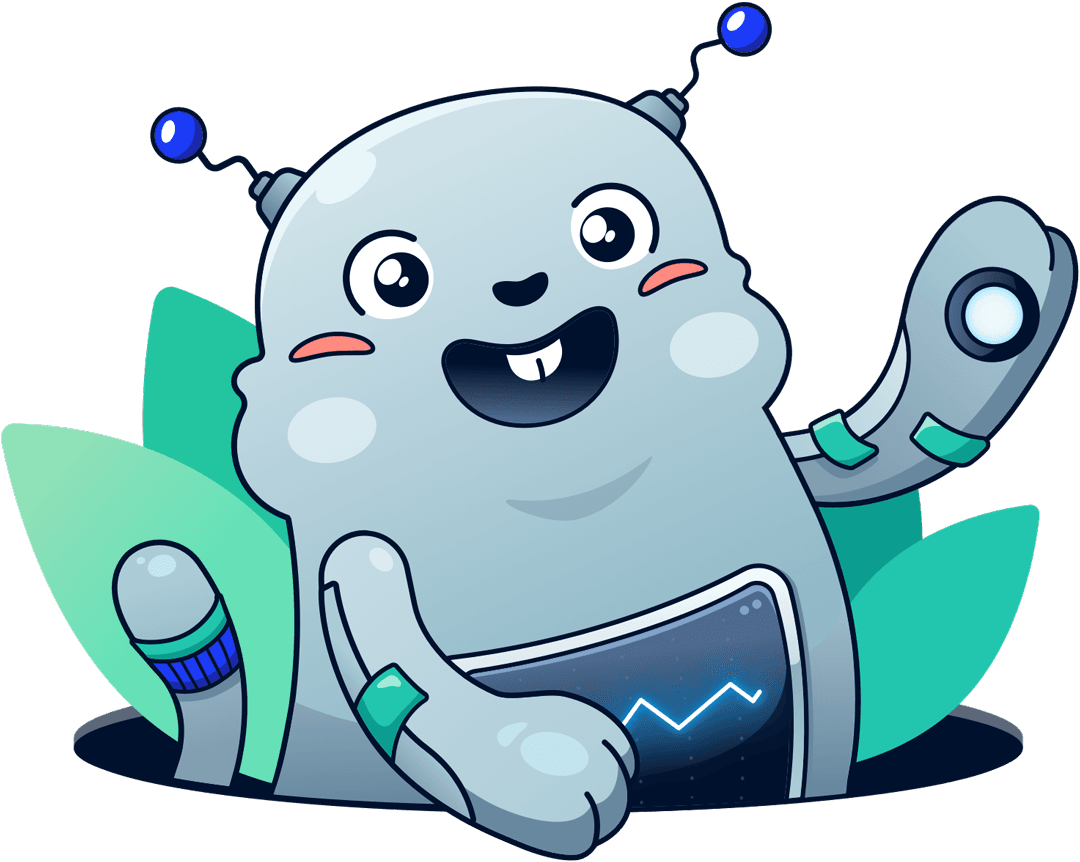 Chatbot for AWS Monitoring
Configure monitoring for Amazon Web Services: CloudWatch, EC2, RDS, EB, Lambda, and more. Receive and manage alerts via Slack. Solve incidents as a team.
Add to Slack
Add to Teams